Factories
More than 56,000 square meters of Hiephoa are used for building 05 factories includes
Hiephoa

Special Purpose Vehicle Co.,Ltd

Hiephoa

Fire and Rescue Co.,Ltd

Labor Protection Garment Factory

Maintainance Vehicle Factory

Mechanic Manufacturer



Hiephoa Special Purpose Vehicle Co.,Ltd
Hiephoa Special Purpose Vehicle Co.,Ltd was established in 2007 in Minh Duc commune, My Hao district, Hung Yen. The factory manufactures special purpose vehicle which service for military, police and environment. The main products are garbage compactor truck, recue truck, anti-riot vehicle and barbed wire handling vehicle, etc.
Hiephoa Fire and Rescue Co.,Ltd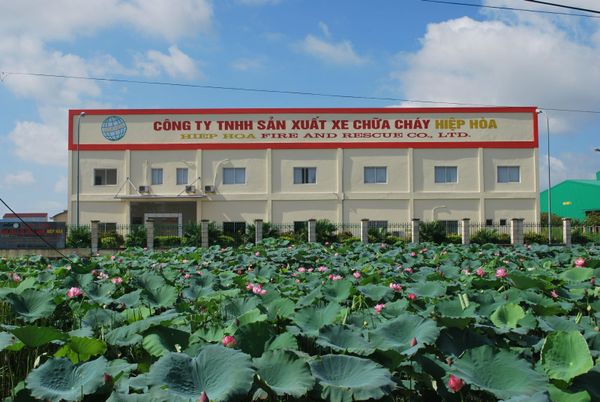 Beginning, it is a venture between MORITA (Japan) and Hiephoa for manufacturing vehicle and equipment of fire fighting in Vietnam. In 2012, purchased all shares of Morita at Morita Vietnam Company and changed name to Hiephoa Fire and Rescue Company limited in Minh Duc commune, My Hao district, Hung Yen.
The factory manufactures and assembles vehicle and equipment which service for firefighting sector such as firefighting truck, mini firefighting truck, pumps, etc.
Labor Protection Garment Factory
Labor protections are sewed such as protecting clothing, reflective clothing, raincoat, etc.
Maintainance Vehicle Factory

The factory offers vehicles' maintainance and warranty services such as repairing, maintaining and inspecting special vehicles of Hiephoa
Mechanic Manufacturer
Mechanical equipment such as hydraulic pumps, cylinders and items are manufacturing and storing at Hiephoa Mechanic Manufacturer