History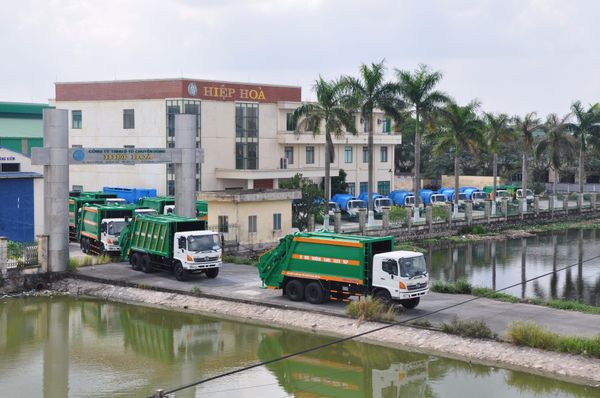 Hiephoa Equipment of Environment & Trading Co., Ltd was established in 1996. The first name of the company was Hiephoa Trading Co.,Ltd. Moving on from manufacturing simple products such as equipment and protective clothes for environment sector, Hiephoa has grown rapidly and extended the business to various sectors.
Hiephoa is also a trusted provider of different organizations which belong to Ministry of republic security such as: General Police Department, General Logistics Department and Fire Department. We have been providing special vehicles such as firefighting trucks, ambulances, armored car, anti-riot vehicle, rescue truck.
Hiephoa is a member of Vietnam Environment Association. We play a positive role in activities of the association. We have built close relationships with the companies of urban environment in many cities and districts in Vietnam. For over 10 years, Hiephoa has been providing more than hundreds of special vehicles. We are the regular partner of the clients who work in the environmental industry.
Whoever you are, Hiephoa always strives to provide high quality products and the bestspoke service. Our ultimate goal is building and maintaining the trust from the clients and partners.
The most important milestones
1996

Established Hiep Hoa Trading Company and Mechanical Mill at Hanoi, Vietnam.

Construction Hiephoa Garment Factory at My Hao, Hung Yen, Vietnam.

1999

Construction Hiephoa special purpose vehicle Co., Ltd

2000

On 20th June, 2000: Changed name to Hiep Hoa Equipment of Environment and Trading Co., Ltd

2002

Becoming an official agent of KANGLIM

2004

Opening a branch office in Ho Chi Minh city.

Becoming an official agent of MORITA CORPOTATION which provided fire and rescue vehicle.

2005

Made joint venture with Morita (Japan) on manufacturing and trading fire and rescue equipments and vehicles in Vietnam.

Becoming an official agent of Mitsubishi Fuso Bus and Truck

2006

Construction of factory with area of 60,000m2 at Minh Duc, My Hao, Hung Yen, Vietnam.

2007

Moved Factory in Hanoi to Minh Duc, My Hao, Hung Yen

Established Hiep Hoa Special Purpose Vehicle Co., Ltd on 18th June, 2007

Be ranked as one of 500 largest Vietnamese enterprises

Move all manufacturing works to new factory in Hung Yen

2008

Morita Vietnam Co., Ltd ( a venture between Hiephoa and Morita group) was established.

Inauguration of High technology centre for manufacturing precision engineering products.

2009

Completing and operating factory and new office in Hung Yen.

Completing and operating Registration Station (Danish Technology )

2012

In May, purchased all shares of Morita at Morita Vietnam Company and changed name of Morita Vietnam Company to Hiep Hoa Fire and Rescue Company Limited.

In October, Hiep Hoa Equipment of Environment and Trading Company Limited gained Golden Trade Mark, impressive Logo and Slogan Award from Vietnam Environmental Association (VATAP)

2013

Exported garbage truck to Malaysia

On 15th July, Hiep Hoa Special Purpose Vehicle Co., Ltd and Hiep Hoa Fire and Rescue Co., Ltd. received Certificate of Quality Management ISO 9001:2008

2014

Become official distributor in the Northern Part of Viet Nam for UNIC Crane – a brand name of Furukawa Corporation in Japan

2015

Hiep Hoa become a permanent member of the Association of Vietnam urban environments and industrial zones

2016

25-11: Grand Open of Warranty Station and South Branch in HCMC

26-11: Hiephoa Group is honored for receiving 02 certifications

- Certificate of Vietnam top 50 gold products for Hiephoa Group's fire truck

- Certificate of Vietnam top 50 leading brands for Hiephoa Group